mars 10th, 2015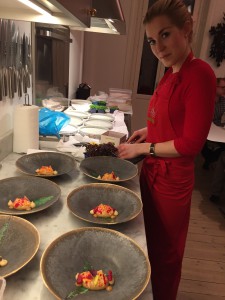 Förra veckan var det återigen dags för Sanna och mig att ha My Table.
Last was week was it time again for My Table.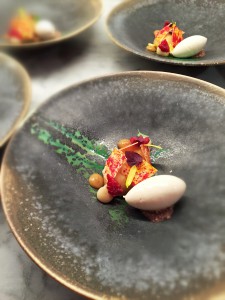 Dessert nummer ett Dulceymousse med banankompott, banankaramell och banansorbet.
Dessert one Dulcey mousse banana compott, banana caramel and banana sorbet.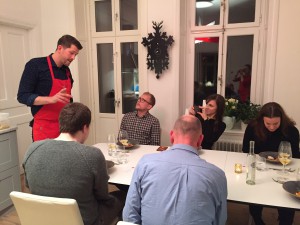 Jag passar på att berätta lite om desserten.
I explain the first dish to our guest.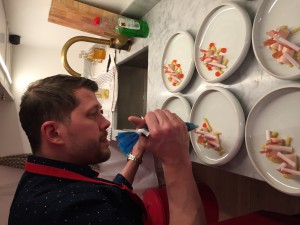 Jag förbereder dessert nummer två.
Preparing dish two.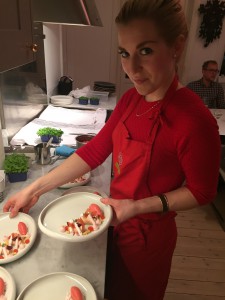 Sanna lägger dom sista detaljerna på desserten innan hon serverar den.
Sanna is ready to go with the next dessert.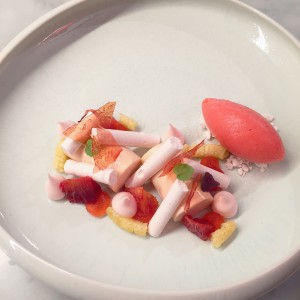 Dessert nummer två Blodapelsinbavaroise, blodapelsinflarn, blodapelsinmaräng, apelsinkaka, blodapelsinskum och blodapelsinsorbet
Dessert two Blood orange bavaroise, blood orange meringue,blood orange tuile,blood orange foam and blood orange sorbet.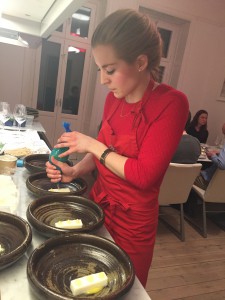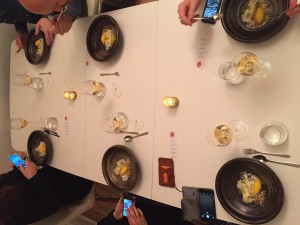 Kul att se hur många som har sina mobiler uppe för att fota.
Photo time 🙂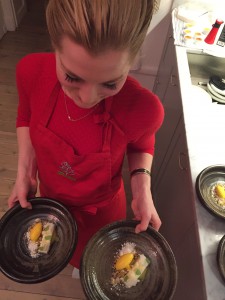 Dessert tre Sudachi moln med Shiranui sorbet, lime curd, yuzukräm och yoghurt sponge.
Dessert three Sudachi cloud, lime curd, yuzu fluid gel and shiranui sorbet.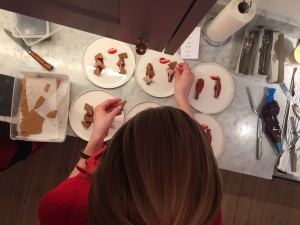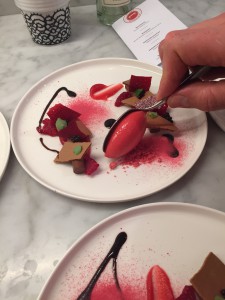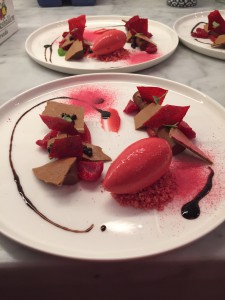 Dessert fyra choklad och lakritspudding, hallonkräm, lakritssås, hallonsorbet och chokladkaviar.
Dessert four chocolate and licorice pudding, raspberry fluid gel, licorice sauce and raspberry sorbet.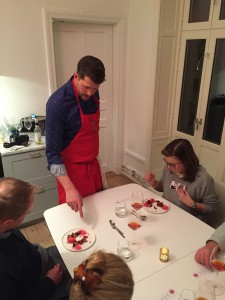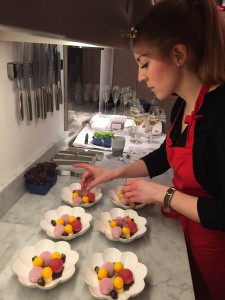 Sanna förbereder sista desserten.
Sanna prepare the last dish.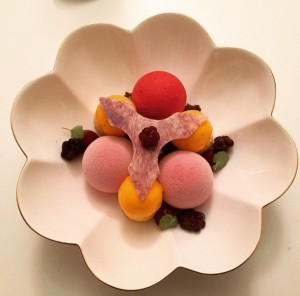 Dessert fem Nobel desserten från 2014 Salmbärsmousse, saffranspannacotta på bryntsmörbotten och sorbet på salmbär.
Dessert five "The Nobel Dessert" Dewberry mousse saffron pannacotta brown butter sponge and dewberry sorbet.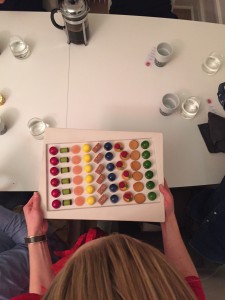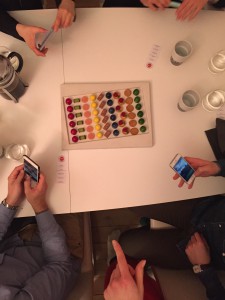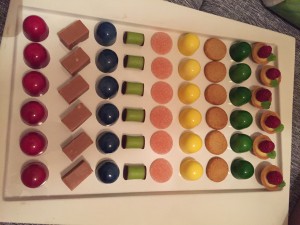 Mignardiser från vänster Hallonpralin, Kola fudge, Pepparmintspralin, dammsugare, vitpersikamarmelad, apelsinpralin,bondkaka, mojitopralin, passionstart. 
Mignardiser from left Raspberry bonbon, fudge, mint bonbon, vacuum cleaner, peach pate de  fruit, almond cookie, mojito bonbon and passionfruit tart.