juli 2nd, 2014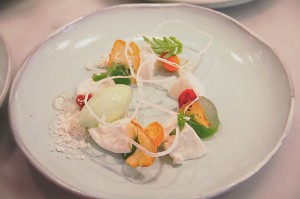 First dessert Caprese "dessert style", Buffalo mozarella, basilika fluid gel, bacon powder, dried tomatos  and basilika and lemon sorbet.
Första desserten Caprese på mitt sätt , Buffelmozzarella, basilikakräm, baconpulver, torkade tomater och sorbet på basilika och citron.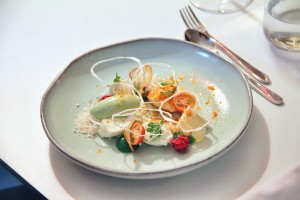 Another shoot 🙂
Vid bordet strödde jag på ett tomat crust gjort på torkad gul tomatsaft.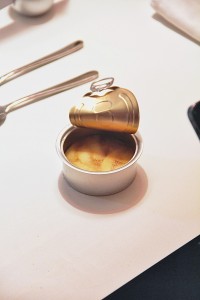 Pre Dessert Vanilla bavaroise, crumble and apple terrine.
För dessert Vaniljbavaroise, kavringssmulor och äppelterrine.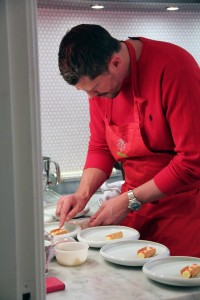 Plating next course.
Förbereder nästa dessert.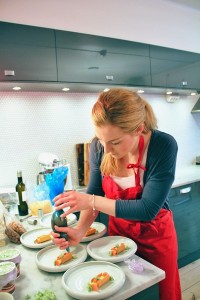 Sanna in action.
Sanna lägger det sista på desserten.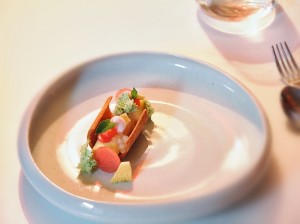 Dessert number two Yuzu curd, watermelon foam, yuzu tapioca and croustade tuile.
Dessert två yuzucurd, vattenmelonkräm, yuzutapioca skum på vattenmelon och croustade tuile.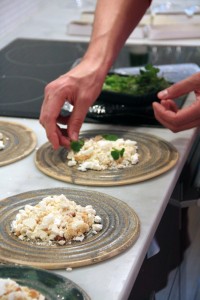 Preparing next dish.
Preppar nästa rätt.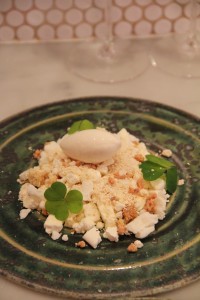 Dessert number three My favorite dish of the night, Jerusalem artichoke ice cream, coconut meringue, coconut bavaroise, marshmallows and Jerusalem artichoke cream.
Dessert nummer tre min favorit för kvällen. Jordärtskocksglass, kokosbavaorise, kokosmaräng, marshmallows och jordärtskockskräm.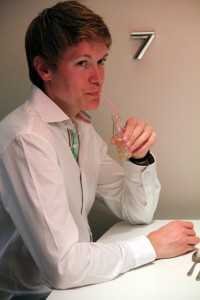 Pre dessert number two Elderflower soda.
Fördessert nummer två Flädersoda.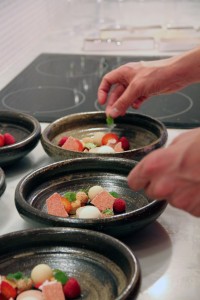 Next dish coming up.
Nästa rätt på gång.
Dessert number four Rhubarb fake tart, long pepper ice cream, rhubarb sponge cake, strawberry fluid gel and rhubarb meringue with dried strawberries and long pepper.
Dessert nummer fyra Rabarber tart med långpeppar glass, rabarberkaka, jordgubbskräm och rabarbermaräng med torkade jordgubbar och långpeppar.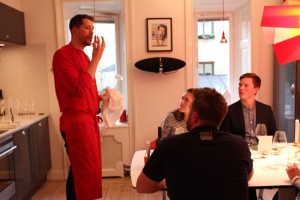 Explaining one of the dishes.
Jag pratar och förklara lite om desserterna.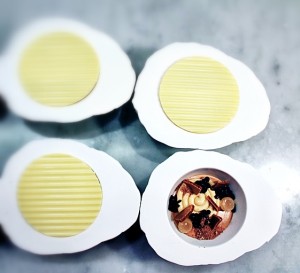 Last dessert, Chocolate mousse, dulcey cream, cognac bon bon liqueur, chocolate caviar and dried chocolate mousse.
Sista desserten Chokladmousse men dulcekräm torkad chokladmousse, chokladkaviar och cognac likörpralin.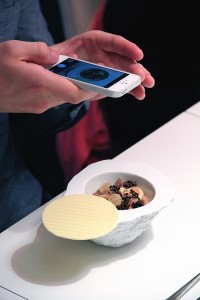 Meta Photo.
Fin Metafotobild.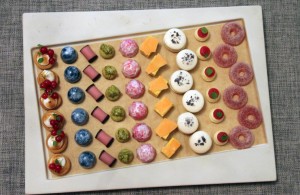 Mignardiser from left. Passionfruit tart, coconut bon bon, vacuum cleaner, pistachio shortbread, raspberry bon bon, mango pannacotta, violet macaron, white chocolate cheesecake and raspberry pate des fruit.
Slutligen lite kaffegodis från vänster, Passiontart, kokospralin, dammsugare, pistagekaka, hallonpralin, mangopannacotta,violmacaron,cheesecake med vitchoklad och slutligen hallonmarmelad.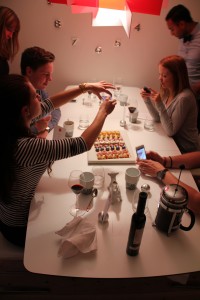 Thank you everybody for coming.
Tack alla ni som kom.