oktober 26th, 2013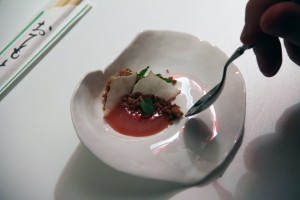 I torsdags och fredags var det återigen dags för My Table vi inledde med
Pre-dessert 1 kräm på Ingrid-Marie äpplen och kavringssmoulor
Pre-dessert 1 cream on swedish apples and rusk crumble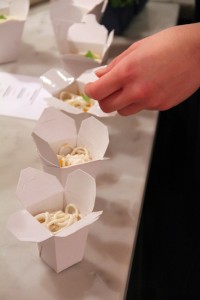 Sanna förbereder Första rätten
 Sanna prepares the first course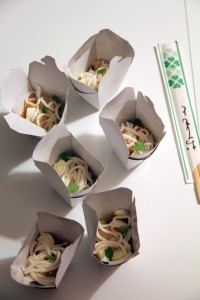 Kokosnudlar med mangomousse  och pandanbrulé serveras med mangosorbet och Tom Kha Gai soppa
Coconut noodles with mango mousse and pandan brulé served with mango sorbet and  Tom Kha Gai soup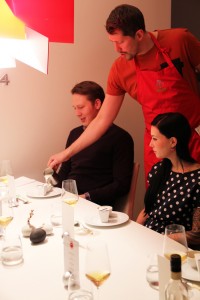 Här häller jag Tom Kha Gai soppan vid bordet
Serving the Tom Kha Gai Soup on the mango sorbet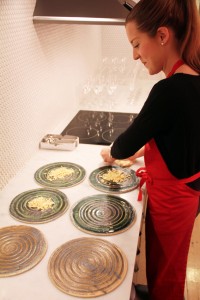 Sanna Lägger mynamolnet
Sanna plating the next dish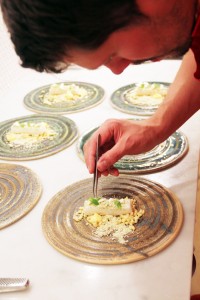 Jag lägger på det sista innan rätten är klar
 Putting on the last leafs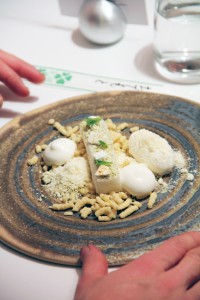 Myntamoln, citronkräm, citronkaka, yoghurtskum, kesellasorbet ,citronsnö,citrusmaräng
The mint cloud, lemon curd, lemon sponge cake, cream cheese sorbet, lemon meringue, lemon ice cream powder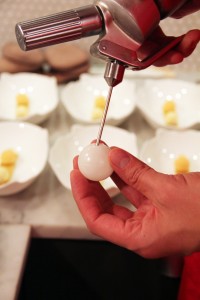 Fyller sockerbollen med citronmyrtelskum
Filling the sugar ball with lemon myrtle foam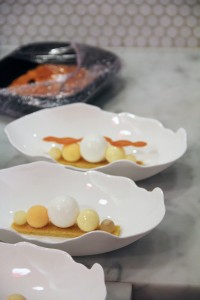 Förbereder nästa rätt
Preparing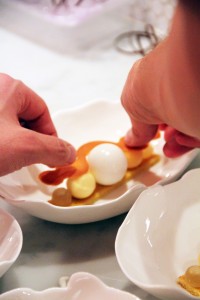 Lägger dit honugsflarnet
Putting the honey tuile carefully on the bubbles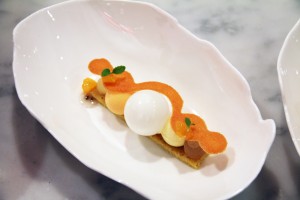 Bubble Bobbles desserten Yuzugelé, Mandarinmousse, sockerboll fylld med Citronmyrtelskum, Calamansicurd och Citronverbenalikörpralin.
The Bubble Bobble dessert Yuzu jelly, tangerine mousse, suger ball with lemon myrtel foam, Calamansi curd and lemonverbena liqueur bon bon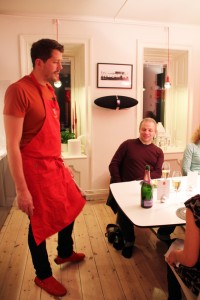 Jag pratar lite med gästerna
Small talk with our guests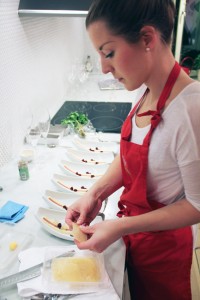 Sanna lägger Salmbärsdesserten
Sannas preparing  the next course dewberry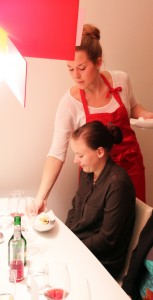 Sanna serverar Salmbärsdesserten
Sanna is serving the dewberry dessert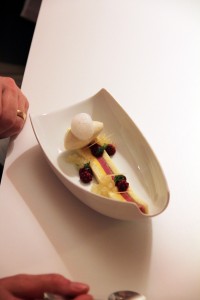 Salmbärspudding, saffranspannacotta, pärongelé, madeleinebotten , päronsorbet, salmbärskräm, päronkaviar, päronflarn.
Dewberry pudding , saffron pannacotta pear jelly, pear sorbet, dewberry cream, pear caviar, madeleine sponge, pear tuiles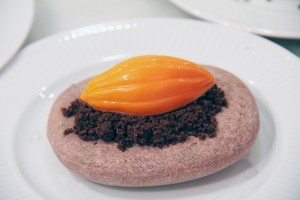 Pre dessert två havtorn och mjölkchoklad
Pre-dessert 2 Sea buckthorn and milk chocolate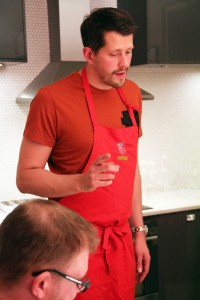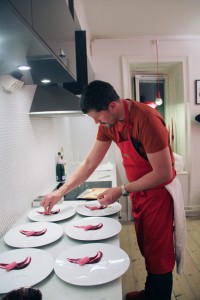 Lägger sista desserten
Plating the last dish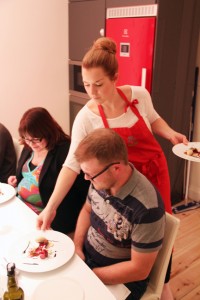 Sanna serverar sista desserten
Sanna serving the last course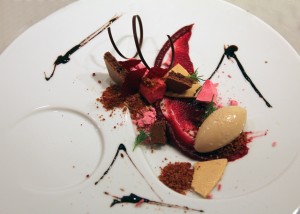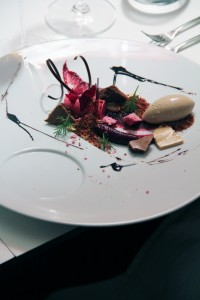 Rödbetsparfait, rödbetskräm, torkad lakritsmousse, lakritsglass, sable, rödbetsmaräng, rödbetssmulor.
Beetroot parfait, beetroot cream, beetroot crumble ,licorice ice cream, licorice sauce, dehydrated licorice mousse, liquid sable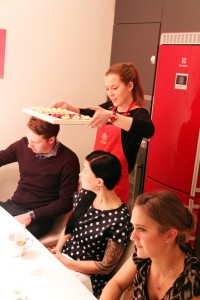 Chokladöverraskning
Sannas is suprising the guest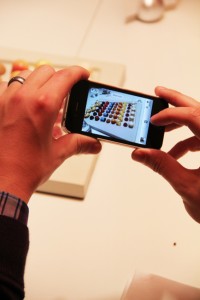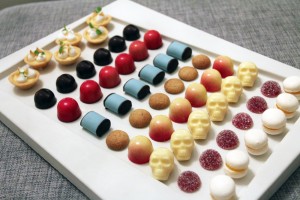 Bergamotttarlette, kardemummapralin,hallonpralin,dammsugare,pepparnötter,tonkapralin,sesampralin,hallonmarmelad,mangomacaron
Bergamott tart, cardemom bonbons, raspberry bonbons, vacuum cleaners, cookie, tonka bonbons, sesame bomboms, raspeberry marmelade, mango macaron.