januari 28th, 2014
Last week we had the 4th Edition of My Table, here are some pictures.
Förra veckan var det åter dags att ha My Table. Här kommer bilder från kvällarna.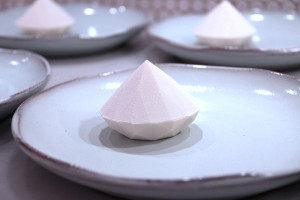 Pre Dessert 1 chocolate diamond filled with apple cream, marshmallows and bread crumble.
Fördessert nummer 1, chockladdiamant fylld med röd äppelkräm , marshmallows och kavringssmulor.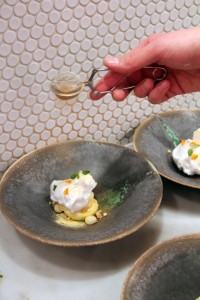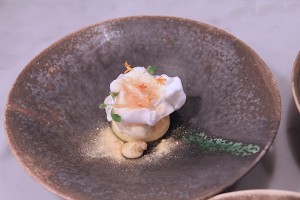 Jasmine sabayone on green tea base , burned honey ice cream and elderflower meringue.
Jasminesabayone  på gröntebotten med bränd honungsglass och flädermaräng.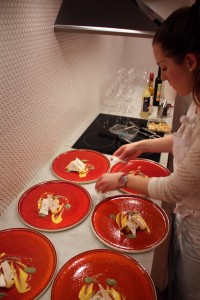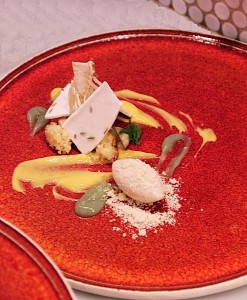 Mango bavaroise with fennel and pear sorbet, fennel meringue, mango curd and burn noisette sponge cake.
Mangobavaroise med fänkål och päronsorbet, fänkålsmaräng ,mangocurd och bryntsmörkaka.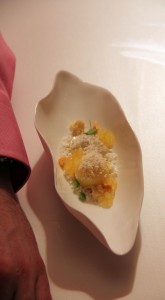 Pre dessert 2 Banana pannacotta  with passionfruit curd, coconut powder and tangerine tapioca.
Fördessert nummer 2 , Bananpannacotta, passionscurd, kokospulver och mandarintapioca.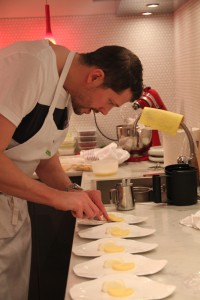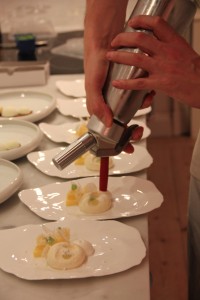 Yuzu curd and yoghurt chibust, deep fried rice paper , yuzu fluid and yoghurt foam.
Yuzucurd med chibust, friterat rispapper och yoghurtskum.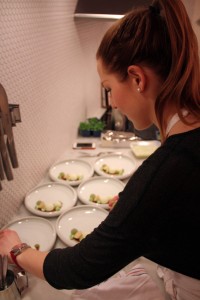 Sanna is plating  the apple and coriander dessert.
Sanna lägger äppeldesserten.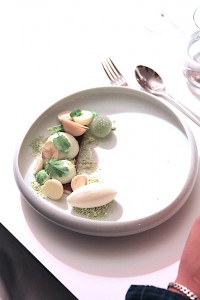 Apple and coriander mousse ,almond cream, almond base with chocolate crisp, coriander powder and almond ice cream.
Äpple och koriandermousse på mandelbotten med chokladkrisp, mandelkräm och mandelglass.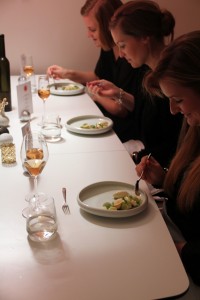 Everyone seems happy so far =)
Alla verkar glada och nöjda så här långt =)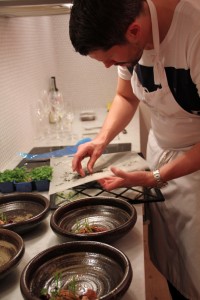 I prepare the last dessert.
Jag förbereder sista rätten.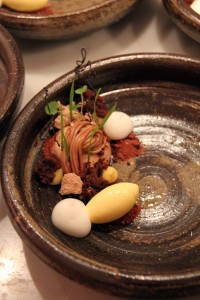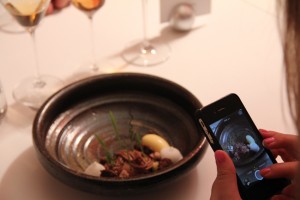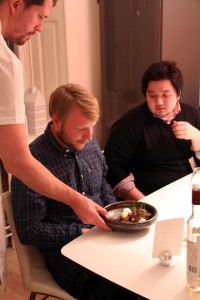 Chocolate mousse with bergamot foam,  milk chocolate cream, bergamot sorbet and crystalized chocolate
Chokladmousse med bergamottskum, mjölkchokladkräm och kristalliserad choklad.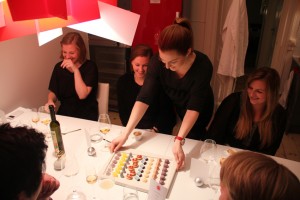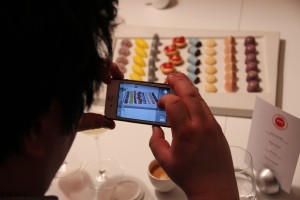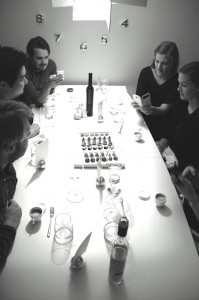 Mignadise plate violett bonbon, tea bonbon, vanilla bonbon, coffee bonbon, fruit tart, raspberry pate fruit, mini cookie and vacum cleaners.
Mignardiser violpraliner, tepraliner,vaniljpraliner,kaffepraliner,frukttartlette, hallonmarmelad,mini drömmar och dammsugare.